Blogs
Your source to the latest insights on what's trending in the HR arena - Recruitment, Talent Assessments, Employee Surveys and Training.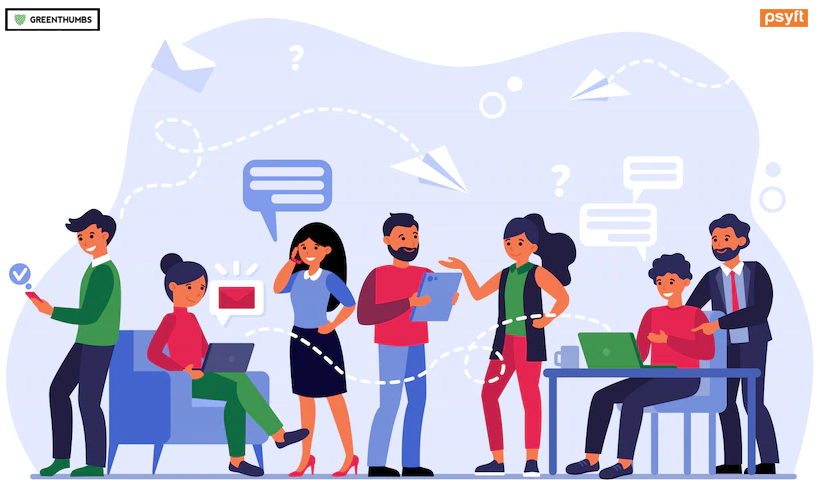 The 7 Top 360 Degree Feedback Software Tools of 2022
1st April 2022
Constructive feedback is a backbone of a healthy and progressive workplace. It helps to build a rhythmic relationship between employees and employers.
Feedback helps employees to reach their full potential. Positive feedback boosts their confidence, and constructive criticism provides employees an opportunity to understand employers' expectations and achieve them.
Similarly, feedback is a chance for employers to communicate with their team members and ensure they stay productive throughout their life cycle. In fact, it is found that those employees whose managers frequently communicate with them are three times more engaged in the workplace.
So, if you want to keep your team engaged and motivated, it is essential to focus on 360-degree feedback. But what is 360-degree feedback?
Don't scratch your heads. Just scroll down to know all about 360-degree feedback and how it can help your organization.
What is 360 Degree Feedback?
360-degree feedback is a comprehensive system in which anonymous feedback is gathered about a person from different sources. It is also known as a multi-rater feedback process because multiple parties are involved in providing feedback.
In 360 degree feedback, an employee is subjected to one feedback at a time. To retrieve feedback, multiple people are consulted in the organization who directly or indirectly interact with the employee, such as peers, clients, subordinates, and managers.
It is well-rounded feedback on an individual to understand his or her work relationships, behavior, and competencies. In short, 360-degree feedback is a complete performance review of a staff member, which helps to move the person up in the organizational hierarchy.
What is a 360 Degree Feedback Software?
360 degree feedback software is an intelligent program that allows organizations to collect feedback about individual employees from their peers, direct reports, and managers. Further, the software generates insightful personal reports and creates goals based on the feedback results.
The 360 degree feedback software provides a complete overview of an employee's weaknesses, strengths, and other behavioral traits. This further helps to run the performance appraisal and employee referral process smoothly in the organization.
Using the software, companies can collect feedback from different sources and stakeholders to process swiftly without manual errors. When the feedback is collected from different resources, it can provide better insights to HR and executive teams.
Additionally, 360 degree feedback software empowers companies with a large employee base to frequently provide comprehensive feedback to their individual team members.
The 7 Top 360 Degree Feedback Software
1. Psyft 360 Degree Feedback Software
Psyft 360 Degree Feedback is being used across industries as a competent performance review & employee development tool for the following benefits:
Customizable Survey Forms:

Our solutions are highly flexible. In addition to our extensive and exhaustive item library, we fully assist your efforts in targeting key areas and issues. Whether you want an extra question or a new survey form, we'll customize the survey tool as per your requirements

Metrics:

Our metrics are based upon scientific techniques and the items are designed by professionals which help ensure maximum participation and meaningful results

Mobile responsive design:

Our Surveys are fully mobile responsive and can be completed on devices like - smartphones, tablets, laptops, and not just a PC. We ensure our surveys are user-friendly and can be completed at ease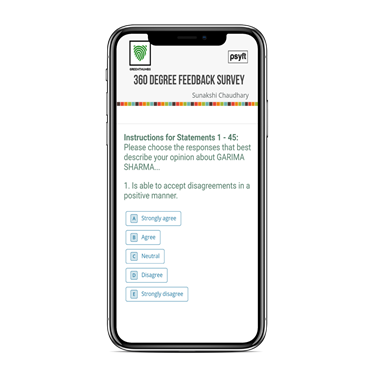 100% Anonymous:

Our surveys are designed to keep responses completely anonymous, which ensures that your employees feel safe in sharing honest opinions. We ensure no individual may be identified in any phase of the process.

Secure:

We take full responsibility to keep our client's data secure with us at all times. We are completely dedicated and committed to our claim for data security.

Personalized self-service dashboard:

Psyft 360° self-service dashboard lets you run the survey exercise yourself. From entering participant details, mapping their relationships to sending invites, tracking participation & downloading reports. All this can be done on one user-friendly platform.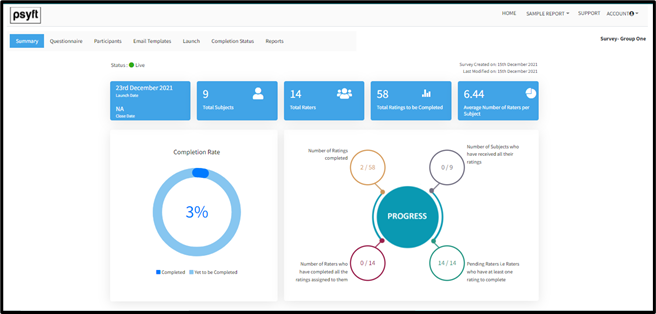 Auto-save feature:

All responses are auto-saved, enabling participants to resume the survey right from where they left, ensuring a greater participation/completion rate

Designed to aid in performance appraisals:

Psyft 360 Degree feedback software helps identify -

Hidden Strengths of individuals
Blind Spots/key development areas for individuals
Top 5 & Bottom 5 survey statements
2. Survey Monkey
Survey Monkey is a popular survey and employee feedback platform used in workplaces worldwide. This platform drives growth and innovation your way with expert-created survey templates that motivate your employees and customers to take action. Using this program, you can expand your market research capabilities and connect with your employees better.
Top Features
Email distribution
Easy feedback management
Real-time result sharing
Powerful survey management
Helpful for online polling
Pros
Good for anonymous surveys.
Super easy.
Excellent survey templates.
Cons
Boring themes.
Supports a few file formats.
Price: Free with basic features. The premium plans start from $67.96 per month.
Best For: HR, IT, marketing, and growth professionals.
3. Spidergap
Spidergap is a top-rated 360 Degree Feedback platform that is affordable, quick, and easy to set up. This tool can help you plan, create, and launch assessments to monitor your workplace growth. Your team will appreciate individual feedback reported that will help create a personal employee development plan.
Top Features
Supports anonymous feedback
Assessment and competency management
Individual employee development plans
Self-service portal
Seamless surveys
Real-time report and analysis
Pros
Detailed reports.
Effective 360 feedback tool.
Easy to use.
Cons
Many basic features are missing, such as saving a draft.
Not so great email templates.
Price: Free with basic features. The paid plans start from $89 per employee/year.
Best For: Small organizations and consultants.
4. Eloomi
Eloomi is an intuitive learning and development platform for professionals. This tool allows companies to create micro-learning and improve every stage of the employee experience. It is a complete solution to conduct surveys, manage performance, simplify the new employee onboarding process, enhance skills and engagement.
Top Features
Performance management
Learning and development
Appraisal and surveys
People development
Pros
Good for onboarding training
Increase workplace engagement.
Cons
A bit of a learning curve is involved.
Price: Get a custom quote based on your team size.
Best For: HR, IT, and employee engagement.
5. 15Five
15Five is a human-centric platform that boosts performance, employee engagement, and managerial abilities. This platform has a wide range of tools to provide one-on-one performance reviews. For education and community development, 15Five is the best performance management program.
Top Features
Complete 360 degree feedback
Anonymous feedback
Individual development plans
Powerful reports
Goal management
Easy to customize templates
Pros
Phenomenal tool for employees.
Supports one-on-one feedback.
Cons
A bit confusing to use.
Some functions are not intuitive.
Price: It starts at $7 per person/month.
Best For: HR Leaders, Managers, and other C-level executives.
6. Alchemer
Alchemer is a simple tool that helps companies conduct full 360 degree reviews without hidden costs. With this program, you will get high-end data security and the best feedback collecting tools. You will also get instant results to take immediate action on the top.
Top Features
Offers communication and community management
Complaint monitoring
Supports anonymous feedback
Email distribution and management
Feedback management
Employee engagement tracking
Pros
Intuitive features.
Easy to set up.
Supports multiple file formats.
Cons
Incompatible with Safari.
Slightly tech-savvy.
Price: Offers a free trial and version. The basic plan starts from $49 per month/user.
Best For: Conducting surveys.
7. Sprigg
Sprigg or SpriggHR is a comprehensive solution for HR leaders. This user-friendly tool can allow small and medium-size HR teams to perform numerous operations like 360 degree feedback, goal setting, leave tracking, performance monitoring, and more. In addition, Sprigg supports real-time feedback that harbors smooth communication between managers and their employees.
Top Features
Real-time reporting and analysis
Employee database management
Performance management
Pros
Easy to use.
Good customer support.
Cons
Clunky interface.
Complicated navigation.
Price: It starts at $165 per month.
Best For: Performance management.
Is It Worth Investing in 360 Degree Feedback Software?
In a word, YES. 360 degree feedback software is an automated system that collects feedback from different sources and processes it to provide insight into a person's performance and other work relationships.
Manually collecting data and then processing it will take lots of time. Further, if the organization has a large employee base, a manager can't frequently provide multi-rater feedback and find solutions to improve the performance of low-performing team players altogether.
Fortunately, 360 degree feedback software can automate the whole feedback process and make it possible for managers to constantly provide feedback to individual team members.
Thus, it is worth investing in 360 degree feedback software to improve your employees' productivity, save managers' time and enhance employee engagement.
Must-have Features of 360 Degree Feedback Software
There are numerous great 360-degree feedback software available in the market today. Thus, it might confuse you to select the best 360-degree feedback software for your organization. Therefore, we have handpicked the features that you must look for in a 360-degree feedback software:
Customizable question library

The 360 degree feedback software must have a wide feedback question library that you can customize as per your requirements. This will help you quickly collect feedback from different people.

Preset templates

The feedback software should provide a preset template to quickly distribute feedback surveys. This template should be of such design that it assesses an employee on standard global competencies such as leadership, business awareness, ethical standards, integrity, etc.

Reports

This is one of the most vital features of 360 degree feedback software that allows managers to evaluate employees' performance. The software should enable managers to generate multiple reports based on individual employees and other performance metrics.

Additionally, all the reports must be graphically intrusive so that HR managers can quickly analyze them and provide personalized feedback with solutions to employees.

Rater selection

The ability to select the rater who can provide feedback will make a huge difference in the end results. To generate holistic feedback, it is important to include multiple parties in the feedback process. Therefore, the software must provide anonymity to raters and keep the feedback results confidential.

Dashboard

An analytical dashboard with a full feedback summary will empower managers to quickly view strengths and weaknesses at the team level. A dashboard also allows managers to keep track of completion rate and send instant notifications and reminders to raters who are yet to submit their feedback.

Multilingual program

For international organizations, a 360 degree feedback software supporting multiple languages is useful to send feedback surveys in regional languages.

Third-party integration

360 degree feedback solutions should integrate with Human Resource Information Solutions and other business automation solutions to automatically sync data without manual intervention.
Key Benefits of 360 Degree Feedback Software
A 360-degree feedback software can benefit your workplace in many ways, such as:
Frequent feedback

Many organizations provide only annual feedback to their employees, which is not sufficient for 45% of managers. Therefore, by using software, you can provide frequent feedback to your employees and keep them fully engrossed in the workplace.

Recognize top performers

Reward and recognition are some of the best ways to keep employees engaged and motivated in the workplace. The 360-degree feedback software will allow HR managers to identify the top performers in the organization and reward them as per their performance level.

Boost turnover rate

Using 360-degree feedback software, managers can quickly gather and process feedback results that will save time and money for the organization. It is found that companies with regular employee feedback practices have turnover rates 14.9% higher than employees who receive no feedback.

Improve performance

The 360 degree feedback software allows managers to get feedback from multiple raters from inside and outside the organization. This helps them to recognize the strengths and weaknesses of individual employees to provide them with better training. Using this information, managers can help weaklings to perform better.

Provide accurate feedback

Feedback is important for your employee's growth, but accurate feedback is essential to retain your employees. That's because 24% of employees will consider leaving if managers provide inaccurate feedback. As the software will provide feedback results without manual efforts; thus, the accuracy of results will be higher.

Reduce discrimination

Since 360-degree feedback software flows through different people in the organization; it can detect signs of discrimination quickly and allow you to take immediate actions. Through the conversation flowing on the software, managers can detect if an employee is bullying his subordinates or discriminating in any manner.
How to Select the Right 360 Degree Feedback for Your Organization?
Among the pool of numerous great 360 degree feedback software, it might sound like a daunting task to select the right software suiting your organization's needs. But if you keep the following pointers in your mind, you can easily find the best 360-degree feedback software for your company:
Number of raters/employees

You should check how many employees and raters a software can handle. If software cannot provide full support to your entire employee base, you should not select such software.

Price

It is important to create a budget to buy 360-degree feedback software and find the best solution within that price range.

Functions

Do you want preset feedback survey templates? Do you prefer software that can integrate well with your HRIS software? Ensure to check all the software features before getting it.
Things To Keep In Mind Before Buying a 360 Degree Feedback Software
You are almost ready to get robust 360-degree feedback software for your organization. But before moving ahead, you should also keep the following things in your mind:
Deployment method

360-degree feedback software is available in both on-premises and web-based solutions. For small companies, it is a great idea to use web-based software because they are more affordable and easy to use. However, if you are a large business organization, having on-premises feedback software will provide you with a better opportunity to scale it as per your needs.

Simple interface

Ensure to get 360-degree feedback software that has a graphic-rich interface. You should consider every member of your teams' technical knowledge while selecting the feedback software. If your team isn't comfortable using the software, it will get very difficult for you to run feedback surveys and then provide insights.
Parting Thoughts
Feedback is important to keep your employees productive, engaged, and confident. And using the 360 degree feedback software, you can collect feedback data, process it, and generate insights in no time.
Whether you want to keep your employees engaged or improve the productivity level of your organization, running timely feedback is highly important for you. Since there are so many great 360 degree feedback software available, it will be super easy for you to run frequent feedback in your organization.
On this note, we would like to wrap up and recommend you to get an effective 360 degree feedback software today. Meanwhile, if you have any thoughts on this software, you are more than welcome to share in the comments.