Blogs
Your source to the latest insights on what's trending in the HR arena - Recruitment, Talent Assessments, Employee Surveys and Training.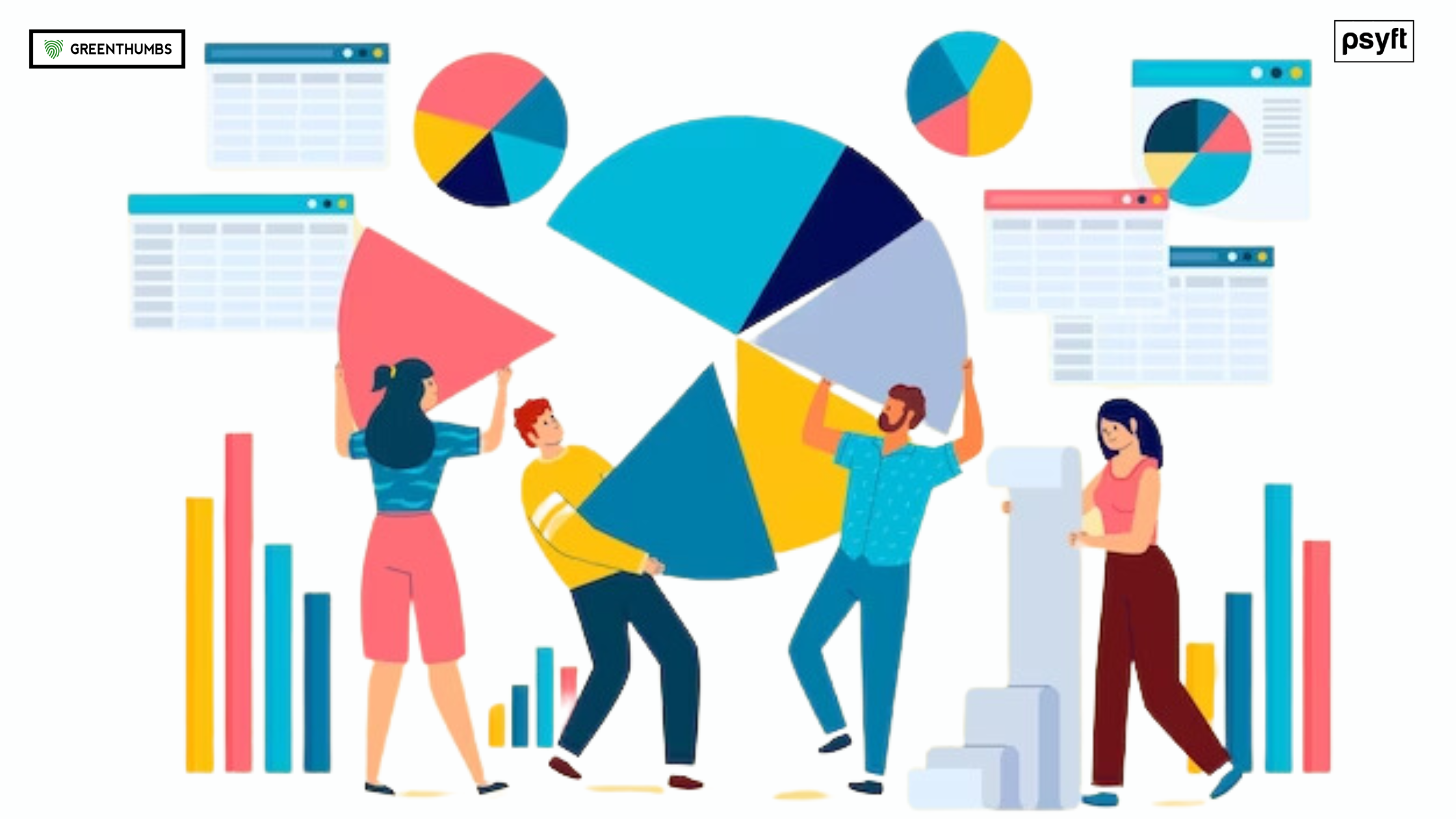 75+ Eye-Opening Company Culture Statistics
Do you know what's the secret behind Google, Shopify, Twitter, and Zappos' success?
Apart from dedication and hard work, they invested in creating a good company culture. Google has spent thousands on offering perks like free meals, financial bonuses, and a dog-friendly environment to their employees. On the other hand, Twitter employees enjoy fitness classes, rooftop meetings, and opportunities to complete further studies from Twitter University.
All these giant companies have understood that — making employees feel that what they're doing matters is the biggest boost to their productivity.
So, if improving brand identity, image, and employee retention are on your agenda, you need to invest in building a thriving company culture. The positive chemistry between employers, employees, and clients can bring considerable results your way.
Now, don't trust mere words! Check out the real company culture statistics and unwrap a sweet surprise yourself.
1) 40% of workers believe corporate culture is very important compared to 37% last year. (Jobvite)
2) 81% of workers feel that corporate culture is somewhat or very important in deciding whether to apply for a job. (Jobvite)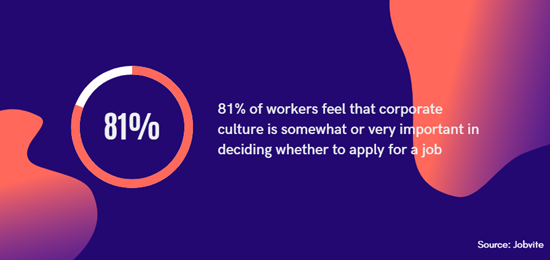 3) Company culture is at least somewhat important to 83 percent of urban workers (compared to 71 percent of rural workers) in their job search. (Jobvite)
4) 39% of urban workers (versus 33% of rural workers) cite business values and culture as one of the factors that influenced their decision to accept a job offer. (Jobvite)
5) College degree holders are more likely (51% versus 28% of those without) to say that corporate culture is "very important in their decision to apply for a job." (Jobvite)
6) People with a college degree are more likely to say that corporate values and culture have influenced their decision to accept or refuse a job offer (45% vs. 31%). (Jobvite)
7) Nearly 70% of Americans place greater importance on benefits and corporate culture than on salaries. (Lexington Law)
8) 30% of companies generally approve sabbaticals or career breaks. (PwC)
9) 67% of businesses report having policies in place to promote physical and mental wellness. (PwC)
10) 39% of business leaders agreed or strongly agreed that their organizations have designed workspaces to foster employee wellbeing and to adapt to a range of work styles. (PwC)
11) Compared to 52 percent of HR leaders, 37 percent of business leaders agreed or strongly agreed that their companies offer career personalization. (PwC)
12) When it comes to choosing a job, 47% of workers state that whether or not an organization allows remote work is a key factor. (Indeed)
13) 40% of employees would be willing to take a pay cut in exchange for the ability to work from home. (Indeed)
14) A distinct workplace culture is important to business success, according to 94 percent of executives and 88 percent of employees. (Deloitte)
15) Strong cultures resulted in a 4x increase in revenue growth. (Forbes)
16) According to Gallup data, hiring high-talent managers can result in a 27 percent increase in revenue per employee. By cultivating a culture that attracts top talent, you could see a 33% increase in revenue. (Gallup)
17) 38% of employees want to quit their jobs because of a toxic work environment or one where they don't feel they fit in. (Randstad)
18) Negative office politics has caused 58 percent of employees to leave or consider leaving their jobs. (Randstad)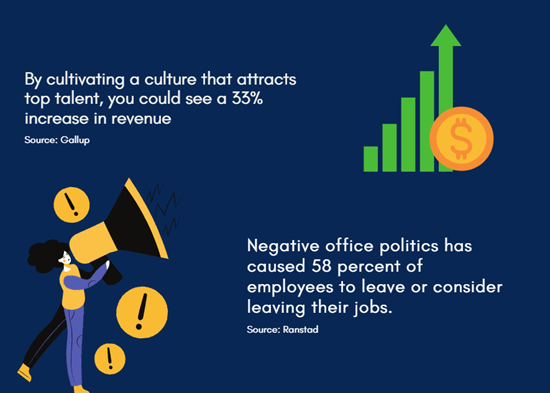 19) Company Culture is important to 74% of the US and UK employees polled. (Speakap)
20) 58 percent of employees said they would take a job with a competitor if the new company had a better culture than the current one. (Speakap)
21) One-third of global respondents (35%) said their workplace culture was 'average,' while 14% said it was 'neutral.' 7 percent said their company has a toxic culture, while 3 percent said they have no culture at all. (Speakap)
22) 45% of US respondents described their culture as 'positive' than UK respondents (36%). (Speakap)
23) Respect and fairness (39%), trust and integrity (23%), and teamwork (9%) are the three most important attributes of a strong culture. (Speakap)
24) Respect and fairness were cited as the most important attribute of a strong culture by 45% of surveyed UK respondents, but only 34% of surveyed US respondents agreed. (Speakap)
25) According to 21 percent of global respondents, sharing the organization's mission, vision, values, and underlying assumptions had the greatest impact on their alignment with the company's culture. (Speakap)
26) Ongoing job guidance and support make 27% of global respondents feel connected to the company culture. (Speakap)
27) According to 32% of global respondents, their company is stuck in its ways and isn't open to suggested culture changes. (Speakap)
28) According to 33% of global respondents, their companies do not make an effort to audit and communicate culture changes/improvements on a regular basis. (Speakap)
29) Companies in the United States are more likely (43%) than their counterparts in the United Kingdom (32%) to use in-person meetings to communicate culture changes to employees. (Speakap).
30) Almost one-third of employees have left a company due to workplace conflict. (Emtrain)
31) In the area of preventing workplace harassment, 11% fewer employees rated their company's workplace culture as "healthy." (Emtrain)
32) 47% of professionals who are proud of their company say it is because it has a positive culture that allows them to be themselves. (Glint)
33) 90% of employers believe it is critical to find candidates who are a good cultural fit (Robert Walters)
34) 73% of executives (that's nearly three quarters) have left a job because they did not like the company culture (Robert Walters).
35) 82% of professionals have worked for an organization where they disliked the company culture. (Robert Walters)
36) 87% of employers provide induction on company culture and values to new staff. (Robert Walters)
37) 67 percent of professionals stated that they were misled about company culture during their induction.. (Robert Walters)
38) The cultural fit between professionals and employers is important, according to 98% of employers and 97% of professionals. (Robert Walters)
39) Candidates are less likely to leave an organization where they are a good cultural fit, according to 81% of hiring managers. (Robert Walters)
40) Businesses must invest in their workplace culture, developing a clear set of values on which to base practices, and reviewing these policies as the company grows and develops, according to employers (96%) and professionals (98%) alike. (Robert Walters)
41) 90% of professionals conduct research on a company's culture before accepting a role. (Robert Walters)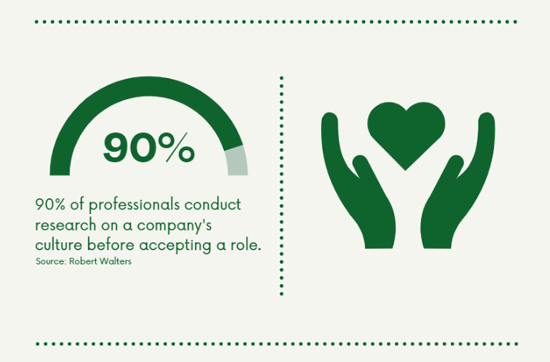 42) Before being offered a job, 48% of professionals were never given the opportunity to meet potential coworkers. (Robert Walters)
43) When considering an employee for promotion to management, 98% of employers consider cultural fit. (Robert Walters)
44) When it comes to hiring, 54% of respondents say they don't use recruitment firms to help them figure out what qualities are required to ensure a good cultural fit. (Robert Walters)
45) 91% of employers saying that they interview professionals based on cultural fit as well as suitability for the job function. (Robert Walters)
46) While 77% of employers say they ask candidates questions during interviews to determine cultural fit, only 56% of candidates say they were asked questions about cultural fit during the interview process. (Robert Walters)
47) Psychometric tests or other external examinations are used by 18% of employers to assess candidate cultural fit. (Robert Walters)
48) 31% of employers say that they would like to use psychometric tests or other external examinations in the future to assess candidate cultural fit, 51% say that they have no intention of doing so. (Robert Walters)
49) Due to poor cultural fit, 64% of professionals disliked going to work.. (Robert Walters)
50) 74% of employees felt demotivated when working for an organization where they were a poor culture-fit. (Robert Walters)
51) 43 percent of employers believe that having a staff member who is not a good cultural fit will cause other employees to resign. (Robert Walters)
52) 86% of employers say that poor cultural fit has led to conflict within their organization. (Robert Walters)
53) During the COVID-19 outbreak, 35% of companies did not hold a virtual team culture event, but experts believe that as remote work becomes more common, more companies will host them. (Clutch)
54) 37 percent of employees said their workplace culture had improved since the pandemic began, while 15% said it had worsened. (Quartz at Work)
55) Only about half of respondents (48.1%) believe their company has the metrics to track cultural change. (Australian HR Institute)
56) 71.4% of respondents believe that building a culture with a remote workforce is a challenge. (Australian HR Institute)
57) Only a third of respondents (35.2 percent) believe that the crisis's remote working aspect has had a negative impact on their culture. (Australian HR Institute)
58) The majority of respondents are unsure whether the crisis's remote working aspect has resulted in less workplace discrimination (62.3 percent ). (Australian HR Institute)
59) For their company to succeed, grow, and retain the best people, 80 percent of respondents believe their organization's culture must evolve in the next five years. (PwC)
60) Culture is an important topic on the agenda for 71% of C-suite and board members, up from 64 percent in 2013. (PwC)
61) Culture is more important to performance than strategy or operating model, according to 65% of C-suite and board members. (PwC)
62) 42% of respondents believe that their organization's culture has remained static for the last five years. (PwC)
63) 23% of employees report that their organizations' leaders have attempted culture change or evolution in some form, but that the efforts have yielded no noticeable results. (PwC)
64) Culture is a strong reason people join their organization, according to 72 percent of C-suite and board members. (PwC)
65) 58% of those who claim to have left a job due to company culture eventually left because of their people managers.(SHRM)
66) According to 76 percent of employees, their manager establishes the culture of their workplace.(SHRM)
67) Over the last five years, the cost of turnover due to workplace culture has totaled $223 billion dollars.(SHRM)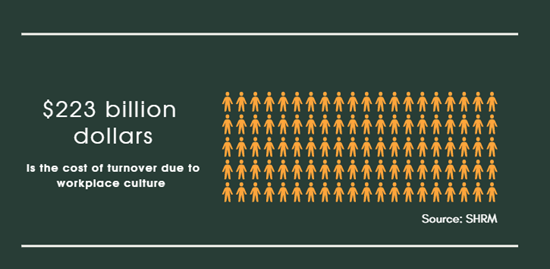 68) More than 85% of American workers who say their company has a strong workplace culture admit to talking positively about it outside of work, compared to only 57% of those who say their company has an average culture.(SHRM)
69) Three out of ten Americans say their work culture makes them irritable at home.(SHRM)
70) Weak company cultures are to blame for 43% of employees who would be willing to leave their jobs for a 10% pay raise. (TinyPulse)
71) Employees recognize the tangible impact of workplace culture, as evidenced by the fact that 63% say it has a direct impact on their company's success. (TinyPulse)
72) Employee satisfaction with employee experience is 102 percent higher in organizations with a thriving culture. (O.C. Tanner Institute)
73) 42 percent of employees believe that executive leadership does not contribute to positive company culture. (Execu-Search)
74) Professional development opportunities are cited by 76 percent of millennials as one of the most important aspects of company culture. (Execu-Search)
75) A third of employees believe their boss has a negative impact on the workplace culture. (Comparably)
76) When evaluating applicants, 91% of hiring managers believe cultural fit is just as important as, if not more important than, skills and experience. (Prodigy Resources)
Parting Thoughts
The law of organisation culture often outweighs any other law. In many organizations, it may be the strongest message of all. Regardless of the difficulty level, the true company culture is one that does not tolerate excuses.This above-mentioned mind-blowing company culture stats 2022 give us a lot of reasons to realize why organizational culture is so crucial. So, use these and build a powerful company culture now! Find out what elements of your company culture are most valued by your people, and work towards providing your people an environment that's conducive to growth, engagement, and productivity.