Blogs
Your source to the latest insights on what's trending in the HR arena - Recruitment, Talent Assessments, Employee Surveys and Training.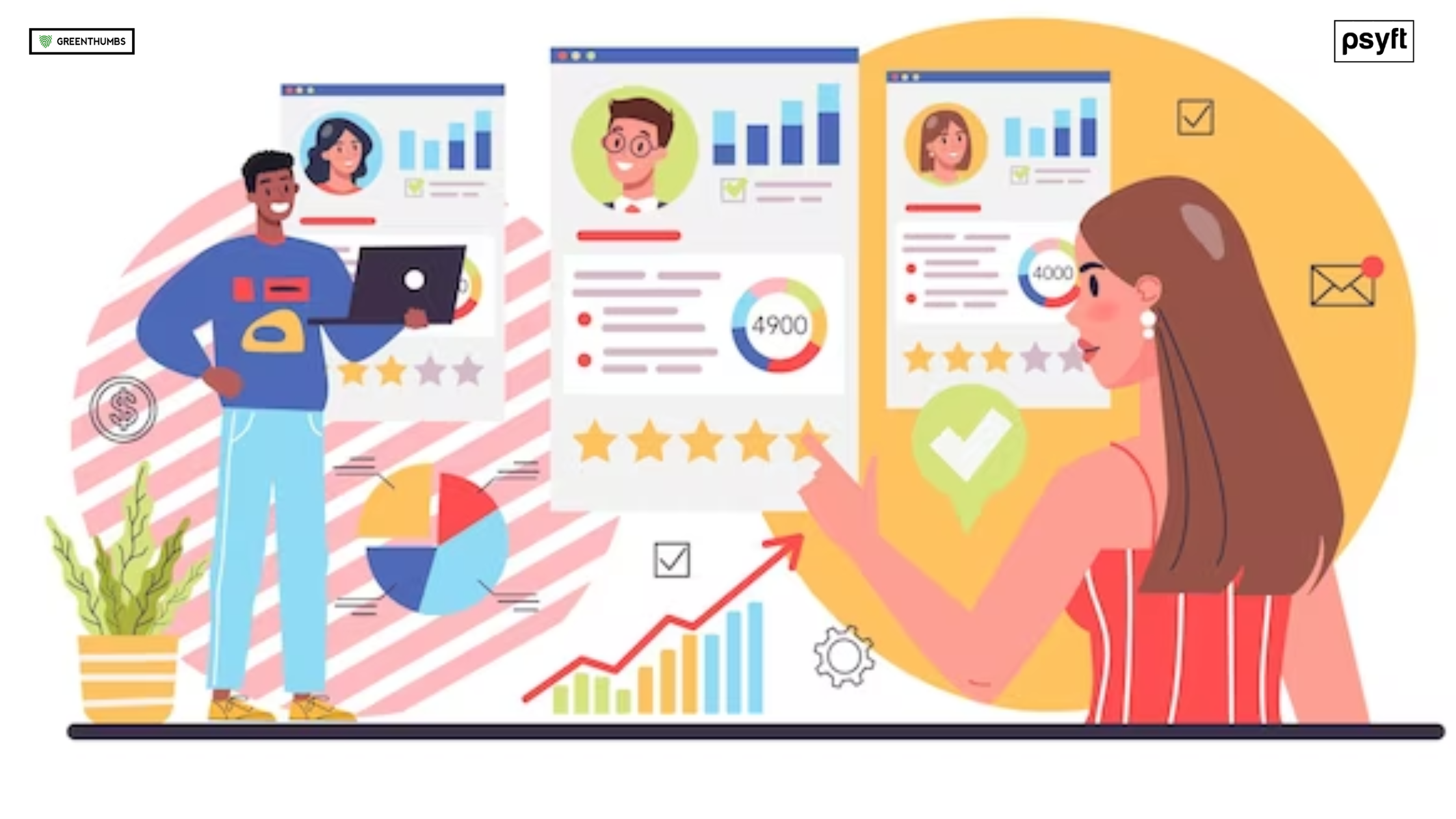 90 Up-To-Date Employee Engagement Stats
"Take our 20 best people away, and I will tell you that Microsoft will become an unimportant company" — Bill Gates.
When a global business leader like Bill Gates admits that his company is nothing without his best workers, have you ever wondered what will happen if your best employees suddenly quit? Now, imagining it is accelerating your heartbeat! Then, what will you do when it actually happens? Because many employees today feel easily uninspired by their work and start job hunting within a few years.
What to do then?
Focus on Employee Engagement! Yep, engaged employees work harder, offer more innovative ideas and solutions. This will further lead to better product quality and happy clients along with revenue growth. Moreover, when you want to step up with giants like Facebook, Google, and Apple, you need all the employee support you can. Below, we have gathered some jaw-dropping employee engagement stats targeting engagement, retention, and workplace satisfaction. Give them a look and strategize your employee engagement plan.
1) According to Gallup, as of early May 2020, 38% of employees were engaged and 13% actively disengaged. (Gallup)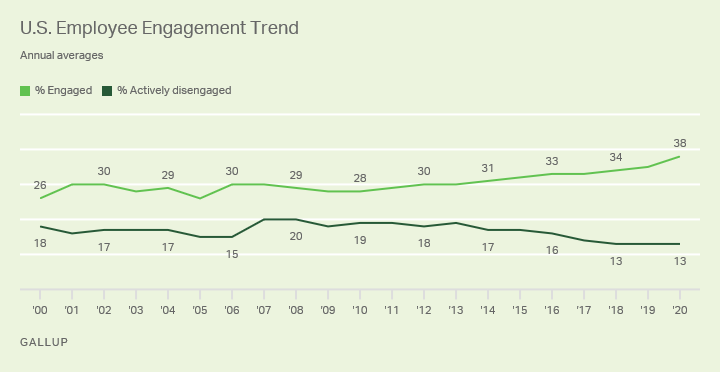 SOURCE: GALLUP
2) There are only 18% of "very engaged" employees that plan to remain at their employers for a long time. (Achievers)
3) Among 42% of employees, "lack of career growth" is the top reason behind low engagement, and "feeling of undervaluation and underappreciation" is the second biggest reason. (Achievers)
4) In 2019: only 65% of employees considered that an empathetic organization inspires more. However, the statistic was revised in 2020 and reached 75%. On the contrary, only 50% of CEOs believe that empathy drives motivation and productivity. (Business Solver)
5) According to 83% of employees, being able to take time off when needed or wanted can increase their work commitment level. (Ultimate Software)
6) Small and medium-size organizations with 250+ employees are 23% more engaged than large organizations with 5000+ employees. (Quantum Workplace)
7) 56% of organizations improved their ROI by investing in employee engagement. (Quantum Workplace)
8) It is believed by 92% of executives that engaged employees tend to perform better. (Quantum Workplace)
9) With clear goals and accountability, 2.8x more employees feel engaged. (Quantum Workplace)
10) When employees are recognized, they are 2.7x more going to be engaged. (Quantum Workplace)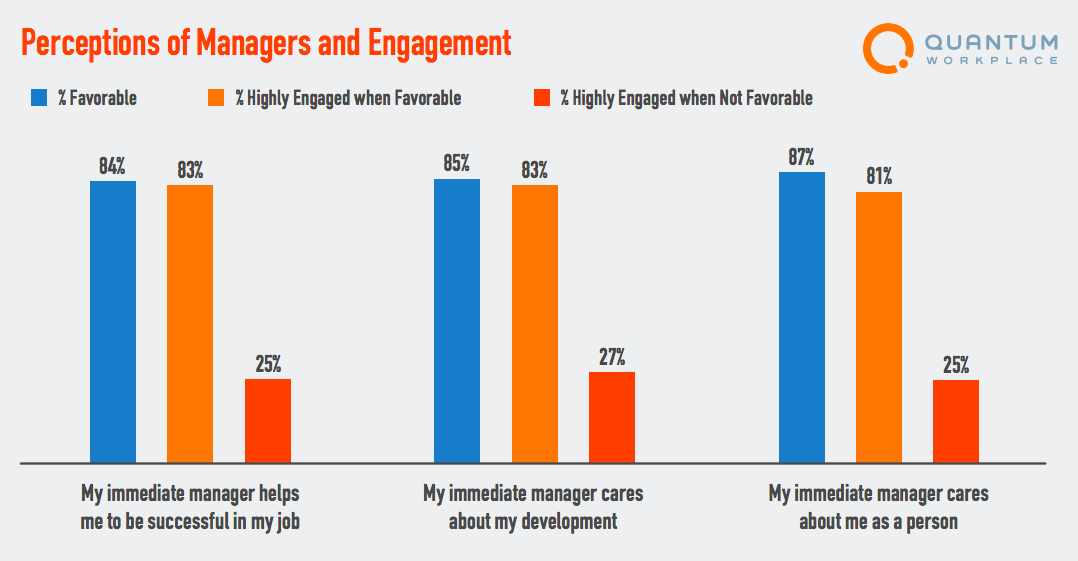 Source: (Quantum Workplace)
11) When employees have favorable perceptions of their managers, they are much more engaged. (Quantum Workplace)
12) Team Collaboration is the main pillar of employee engagement. The other factors impacting employee management are perceptions of teamwork, respect from team members, and collaboration. (Quantum Workplace)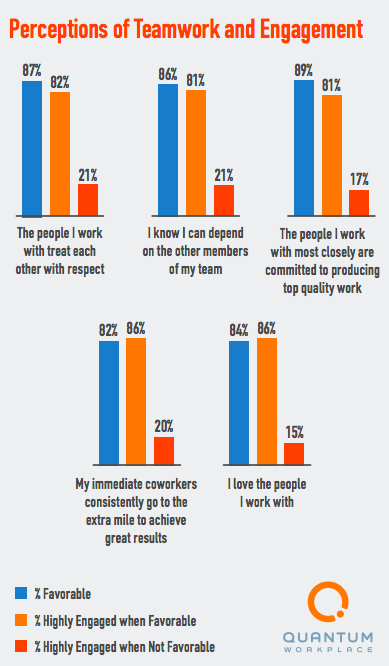 Source: (2020 Employee Engagement Trends Report by Quantum Workplace)
13) When employees feel that their health and wellbeing are prioritized by their workplace, they are 3.5x more highly engaged (84%) compared to those who don't (24%). (Quantum Workplace)
14) Around 39% of companies measure employee engagement at least once a year. (Quantum Workplace)
15) Nearly 16% of companies don't follow any formal method to measure employee engagement. (Quantum Workplace)
16) It is believed by 81% of business leaders that have highly engaged employees are more productive. (Quantum Workplace)
17) 72% of business leaders strongly agree that companies that have more engaged employees will have happy customers. (Quantum Workplace)
18) 37% of HR and C-suite leaders revealed that employee engagement is a prominent area of focus for their organization today. (Quantum Workplace)
19) Consistent tools are only used by 43% of organizations to assess employee engagement. (Quantum Workplace)
20) 43% of companies share their employee engagement results transparently across the organization. (Quantum Workplace)
21) 26% of companies link engagement to business metrics. (Quantum Workplace)
22) As per 32% of companies, one of the biggest barriers to get business value from employee engagement is that employees don't feel ownership of their engagement, development, and performance. (Quantum Workplace)
23) 39% of firms say that employee engagement survey results are evaluated and acted upon separately from their performance management processes. (Quantum Workplace)
24) Merely 55% of business organizations regularly diagnose their employee engagement data. (Predictive Index)
25) Only 22% of companies understand what's causing employee disengagement in their organization. (Predictive Index)
26) Only 39% of companies are aware of what's driving engagement among their employees. (Predictive Index)
27) For 17% of executives, increasing employee engagement is the number one priority. (Predictive Index)
28) Leisure and Hospitality, followed by Real Estate and Finance are the top most engaged industries. (Emplify)
29) The least engaged industry is manufacturing. (Emplify)
30) Human Resource departments have the highest engaged teams. (Emplify)
31) The companies with highly engaged employees have a 10% better customer rating compared to disengaged employees. (Bonusly)
32) 58% of Actively Disengaged employees are on the job hunt, compared to only 35% of Highly Engaged employees. (Bonusly)
33) The top engaged employees are 2.8x more recognized the last time they went beyond at work compared to disengaged employees. (Bonusly)
34) Engaged employees are 2.6x more likely to work at an organization with a peer recognition program. (Bonusly)
35) The most engaged employees are 2.6x more likely to work for an organization that provides a home-office budget. (Bonusly)
36) The most engaged employees are 2.9x more likely to report working for innovative organizations. (Bonusly)
37) 95% of engaged employees believe that their managers listen to their ideas compared to 39% of disengaged employees. (Bonusly)
38) The younger employees aged between 18-24 are more actively disengaged compared to 55 years and older employees who were likely to be highly engaged. (Bonusly)
39) 71% of highly engaged organizations recognize employees for a job well done. (Bonusly)
40) Employees with a bachelor's degree or higher tend to have a higher level of disengagement. On the contrary, less educated employees tend to be Highly Engaged or Actively Disengaged. (Bonusly)
41) Women are more likely to be more engaged at work than men. But, the disengagement level is the same among both genders. (Bonusly)
42) 81% of employees believe trust in leaders is the most important employee engagement factor, followed by an employee's immediate relationship with their supervisor. (TechRepublic)
43) Only 41% of employees below manager level are engaged, 38% are disengaged, and 21% actively disengaged. (Peakon)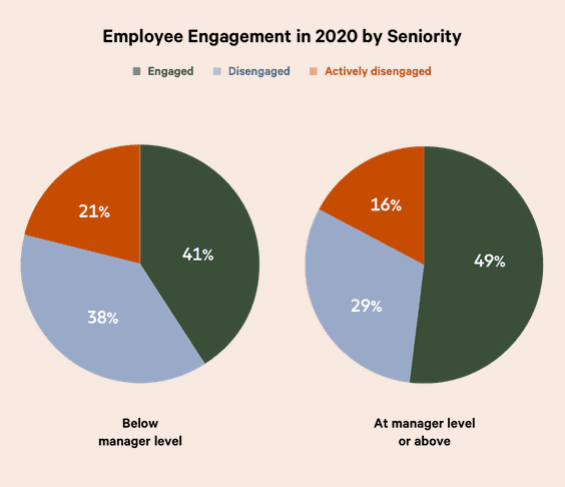 Source: Global Employee Engagement Data 2020 (HEARTBEAT BY PEAKON)
44) Increase in 10% employee engagement investment can boost profits by $2,400 per employee per year. (Workplace Research Foundation)
45) Companies with engaged employees outperform those without by 202%. (Dale Carnegie)
46) The top three reasons behind employee engagement as stated by employees: They enjoyed their work (43%), they collaborated well (40%), and they understood how their work contributed to overall company goals (26%). (Wrike)
47) Three main reasons behind employee disengagement: They felt unrecognized or undervalued (45%), they were underpaid (32%), and they were burnt out from being overworked (29%). (Wrike)
48) Employees said they would be more engaged at work if they had higher compensation or a better job title (42%), greater recognition for their accomplishments (30%), and a better work-life balance (24%). (Wrike)
49) Employees reported that when they are disengaged: their productivity suffered or they did less work than usual (48%), they cared less about the quality of their work (35%), and they vented to their colleagues (28%). (Wrike)
50) 4.3% of extroverts are more likely to be engaged. (Wrike)
51) 27% of introverts reported that they felt unproductive at work up to 75% of the time. (Wrike)
52) 49% of engaged employees were more likely to work in companies that have undergone digital transformation. (Wrike)
53) Only 18% of employees reported being productive 90% of the time or more. (Wrike)
54) 48% of the employees reported they were productive less than 75% of the time and at least a quarter of their time that could be better utilized. (Wrike)
55) According to leaders, the keys to employee engagement were: effective team collaboration (36%); good work-life balance (35%); a positive work culture that promotes trust and respect (29%); recognition (29%); and having the tools, resources, and support needed to execute work (22%). (Wrike)
56) Companies that employ agile methodologies are likely to have 73% of more engaged employees. (Wrike)
57) Engaged companies grow 3x times faster profits compared to their counterparts. (Scott Gould)
Highly engaged employees make the customer experience. Disengaged employees break it. -Timothy R. Clark
58) Highly engaged organizations have the potential to reduce staff turnover by 87% and improve performance by 20%. (Scott Gould)
59) According to 72% of millennials, when managers help them to establish performance goals then they feel more engaged. (Acertitude)
60) On average, 83% of employees are engaged in their first year and 74% after 3-5 years. (Quantum Workplace)
61) According to HR professionals, increased performance and retention are the most vital benefits of employee engagement three years in a row (2018-2017-2016). (DecisionWise)
62) 75% of employees said that their company's culture drives their engagement at work. (TinyPulse)
63) As compared to hourly paid employees, regular salaried workers are 10% more engaged. (CompareCamp)
64) Actively engaged employees to make a safer workplace with 70% of fewer safety incidents. (CompareCamp)
65) Managers' quality is responsible for 70% of the team engagement level. (CompareCamp)
66) Only 12% of businesses are happy with the current level of employee engagement. (CBI)
67) A whopping 93% of non-profit employees are engaged at work. (Work For Good)
68) 31% of retail workers confessed that training makes them more engaged. (GlobeNewsWire)
69) 70% of engaged companies have a better understanding of their customers' needs compared to 17% of disengaged companies. (StaffCircle)
70) Workers who are in the team are more likely 2.3 times engaged than those who are not. (ADP Research Institute)
71) If workers trust the team leaders, they are 12 times more likely to be engaged. (ADP Research Institute)
72) 21% of full-time gig workers who are a part of a team, said that they are highly engaged at work. (ADP Research Institute)
73) Globally, virtual workers who are part of a team are more engaged (29%) than office workers (18%). (ADP Research Institute)
74) The lowest level of engagement (11%) is displayed among the employees who travel for work. (ADP Research Institute)
75) Employee engagement level in India has improved dramatically from 5 points to 22%. (ADP Research Institute)
76) 25% of those who have a full-time job and also a part-time job are Fully Engaged. (ADP Research Institute)
77) Employees who work 80% of the time virtually are more engaged. (ADP Research Institute)
78) When employees have to travel from the primary location of work, engagement drops by 45%. (ADP Research Institute)
79) Virtual workers are 29% highly engaged than 14% of office employees. (ADP Research Institute)
80) Employees are 1.3 times more likely to be engaged while working on more than one team. (ADP Research Institute)
81) Gig workers are 21% more engaged than 16% of full-time workers. (ADP Research Institute)
82) Employees who work for companies with an employee engagement strategy rated their positive impact at work 10 percent above employees at companies without a strategy. (WeSpire)
83) If companies have official employee engagement strategies, they are 16% more likely to be recommended by their current employees. (WeSpire)
84) Merely 25% of employees say that their company is effective at communicating engagement opportunities. (WeSpire)
85) 62% of employees showed interest in learning about employee engagement programs via emails and newsletters. (WeSpire)
86) Around 80% of Indian employees are engaged. (Mercer)
87) Involving staff in decision-making (45%) was the foremost frequently cited effort to engage employees, followed by increasing communications (24%), (IPMA-HR)
88) 92.2% of companies use employee listening methods as an employee engagement strategy. (APQC)
89) Analytics in engagement efforts are used by 64.4% of companies. (APQC)
90) One-third of organizations state that lack of time is an extreme challenge in carrying out engagement strategy. (APQC)
Conclusion
Wow! Employee engagement stats are indeed eye-opening. It is crucial to appreciate your employees and understand their feelings in modern workplaces. Employee engagement is a simple phenomenon -
You care for your employees; in return, they will care for you. You need to act now, you have all the right tools available. Just pick the right ones and make your employees happy and engaged at every step!