Blogs
Your source to the latest insights on what's trending in the HR arena - Recruitment, Talent Assessments, Employee Surveys and Training.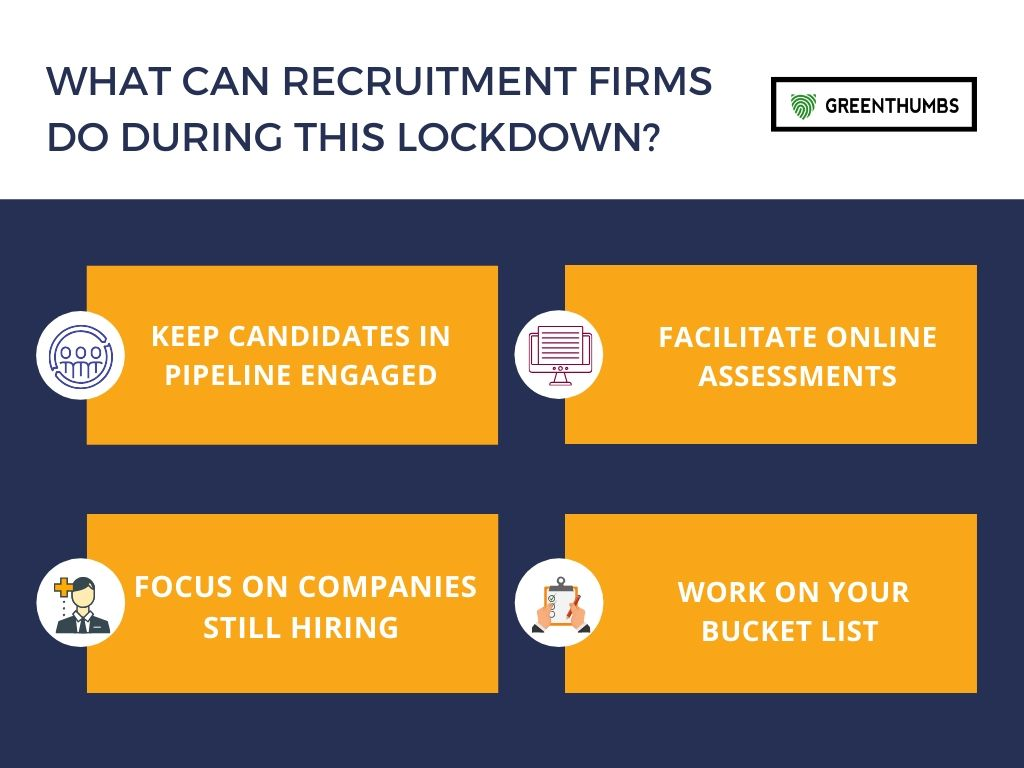 What Can Recruitment Firms Do During This Lockdown?

14th May 2020
The year 2020 arrived and was taken over by one of the most challenging and testing times for the human race across the globe - the Coronavirus pandemic. It's not just a health crises anymore, but an economic one as well. It has affected businesses worldwide, with every sector struggling in one way or the other. The challenges exist at both personal as well as professional levels –
Challenges of the locked-down phase
Professional Front - Just sometime back, The Economic times published an article - Side-effects of lockdown – bringing out the challenges being faced by companies and the plight of employees, across industries.
Shutting Down Operations
Facing slowdown at work
Employees coping with remote work arrangements
Employees working onsite with limited resources
Uncertainty over job security
Salary cuts
Lack of co-ordination and connect with team-mates, etc.
Personal Front - The current lockdown situation may take a toll on people's health and affect them in different ways – psychologically, physically, mentally, emotionally and operationally.
Self – isolation Stress.
Balancing between work & personal commitments.
Limited access to work resources.
Family/personal Concerns.
Dearth of basic amenities.
Challenge that the Recruitment Firms face - Slowdown in Hiring
According to an estimate, the staffing industry was expected to grow by 22.7 percent to by 2021; and by 2025, the staffing industry was expected to account for nearly 10 percent of India's formal sector employment, next only to China and the US. But under the backdrop of the COVID-19 pandemic, these growth statistics seem a bit far-fetched.
With the ongoing COVID – 19 pandemic situation, most sectors and organizations have paused their hiring and talent acquisition process. Companies are forced to halt full-time onboarding, postpone internships & other placement offers.
As per Aon's survey on Impact of Covid-19 on Talent Acquisition, 3 out of 5 companies considered both freezing hiring and postponing candidate onboarding as a likelihood, while 15% of companies considered potential layoff. Industries bearing a massive brunt in the current times are - travel, tourism, hospitality, construction, etc.
Here's some food for thought for recruitment consulting firms on what can they do during these times of slowdown –
Keep your candidates engaged
One of the very first things recruiters should do is to keep a tab on their candidate pipeline, i.e to stay connected with their candidates. The key is to keep them updated at all times about the business situation of companies they were to join. Being honest with the applicants will help reduce their anxiety levels and will also create a level of trust. Making sure candidates know what's going on, what is the progress rate like, etc. will better prepare them for future possibilities.
Facilitate online assessments
Go online. Go paperless. Personality tests, psychometric assessments etc. are all online based screening tools that can still be used to their full potential in these times. Highly scientific and reliable online assessments offer a great candidate experience and fasten up the hiring process. Promote launching these to filter out potential hires for companies. Pick talent assessment tools that most suit the roles in questions and carry out a complete screening – behavior, competencies, attitude, etc. Such assessments also help hiring managers to chalk out an interviewing plan.
Focus on companies that are still hiring
While hiring has taken a back seat for most companies, a few sectors might still be in need of manpower. For instance, since everyone is locked at home and are in need of essentials products and services to be provided at their doorsteps; sectors like online grocery aggregators, shipping and delivery may be in need of hiring more workforces. Some of the other industries that could open to hiring include health-care sectors, online learning companies, remote communication companies etc. These companies are working day and night to meet the needs of their customers across regions. Recruiting companies can provide maximum support to such companies in order to fill their large number of openings.
Time to review your bucket list
A lot of organizations are taking up projects that have been lying in the bucket list, unattended due to the dearth of time. For example, H&M is utilizing this time to develop strategies around inclusion and career development for underrepresented employees. Something similar can be done by a recruitment firms as well. To look at the brighter scheme of things, the current scenario has in a way, given recruitment firms all the time in the world to take up programs and plans that they always wanted to execute but were not able to take up so far. This could include, running a short online training/coaching session for your team, automating some recruitment related manual work.
Some recruitment firms also offer talent assessments and survey solutions across sectors. This could be perhaps the perfect time to work on enhancing and expanding the tool inventory or further improvising existing assessment and survey offerings.
Conclusion
The Coronavirus pandemic has caused a major disarrangement in the globalized world. Businesses & economies are under some really trying times. In these testing times, HR professionals and recruiting firms who take these challenging times as an opportunity to thrive and succeed will emerge as winners.