Blog
Your source for ideas and best practices in Human Resources (HR), assessments and survey solutions.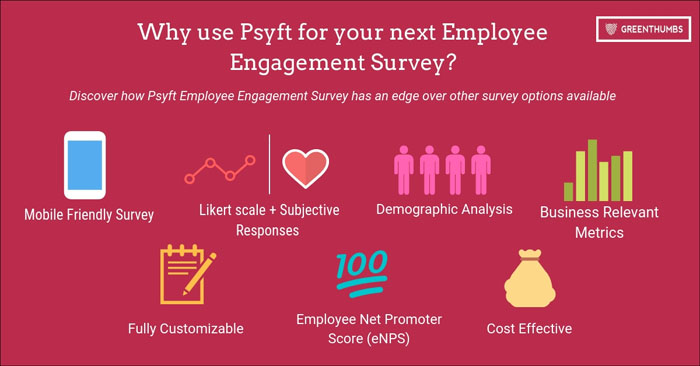 Why use Psyft for your next Employee Engagement Survey?
Employee engagement surveys are a crucial feedback exercise for companies. These surveys measure the extent to which employees feel passionate about their jobs and are willing to put discretionary effort into their work. Indeed, employee engagement is critical in driving success.

Such surveys, when done right, are a useful way to gather insight on engagement levels of employees & what's going on in an organization.
Why run an employee engagement survey?
Provides an honest insight into employees' experience at work.
Gives employees a voice and makes them feel valued.
Highlights opportunities for engaging employees.
Helps initiate a culture of feedback and open communication.
When people are emotionally invested, they want to contribute.
Knowing that employee feedback has an impact on a company's bottom line, running an employee survey with proper methodology and analysis becomes very important. If engagement surveys are mismanaged, they can have a huge negative effect on the engagement levels in organizations. An organisation should know what employee engagement questions to choose, what platform to implement, etc.
Psyft EES offers all this and much more to companies willing to conduct such an exercise.
Psyft EES
is a better alternative to the various survey options available today. Following are reasons for it -
Not just based on the "likert Scale" - Many of the general employee engagement survey tools use only the likert scale for capturing responses. The Gallup survey for instance is entirely based on agree/disagree questions. This limits the scope of reporting. Psyft EES, in addition to the likert scale, also covers partially open ended, fully open-ended questions & employee net promoter score (eNPS), allowing employees to express themselves in the most realistic manner. Psyft EES offers deep quantitative and qualitative analysis.


Detailed Demographic Analysis - Employee engagement surveys covering demographic scores are essential to in order to get a complete picture. Psyft Employee Engagement scores are studied across various demographic groups of the survey population – i.e. Age, Gender, Department, Tenure, Seniority Level and Location.


Business Relevant Employee Engagement Parameters - The correlation between the employee engagement questions and business performance is very vital. This co-relation in case of Gallup Q12 survey is limited, as the questions are limited. Psyft EES covers a wide range of performance relevant metrics to measure employee engagement. These dimensions encompass everything required for an employee to be engaged at work.

Download Sample Report


Customize Your Survey - Psyft EES offers companies an option of customizing the survey form as per the business objective and requirement. The scope for flexibility is not restricted in case of Psyft EES.


Cost effective Employee Engagement - Psyft is known to offer the best employee engagement survey exercise at a very cost-effective model. We design & implement surveys for companies at most reasonable prices (both for standard as well as customized tool).

Download Brochure