Blogs
Your source to the latest insights on what's trending in the HR arena - Recruitment, Talent Assessments, Employee Surveys and Training.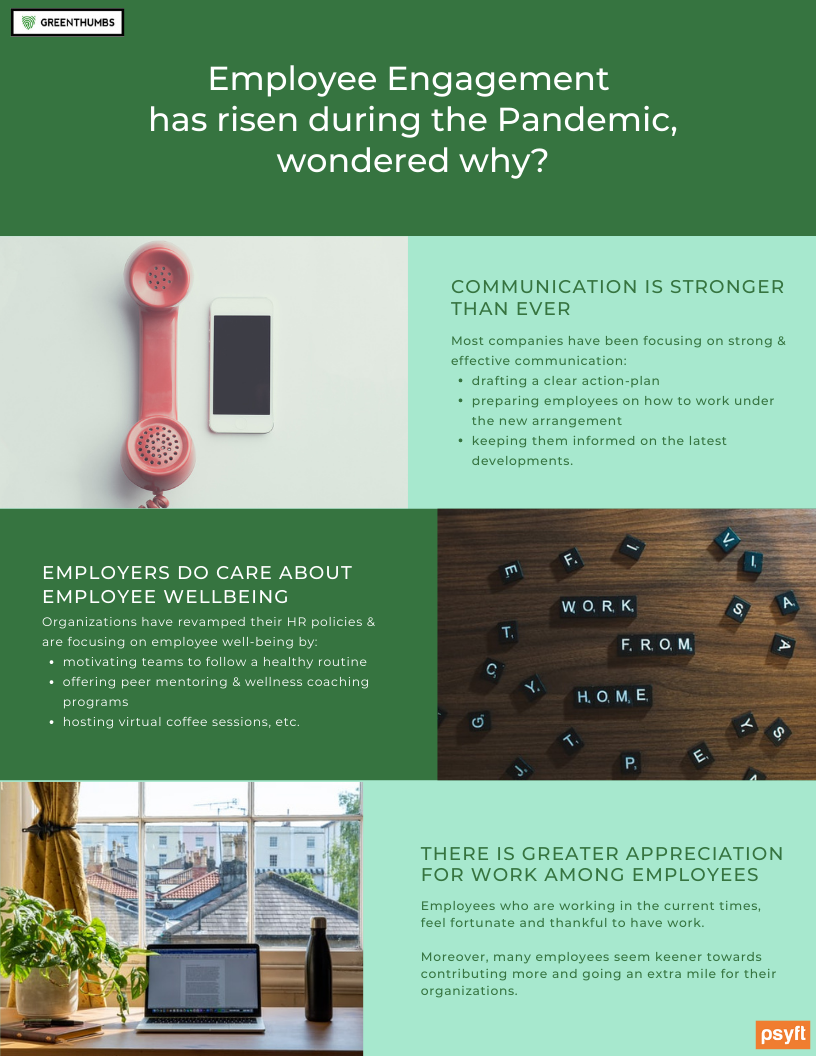 Employee Engagement has risen during the Pandemic, wondered why?

9th October 2020
A recent study by Quantum Workplace revealed employee engagement has risen significantly during the COVID-19 crisis, for nearly 73% of organizations. Sounds interesting doesn't it?
Gallup, which has been tracking the employee engagement & wellbeing during this time, says that even as Americans' wellbeing has dropped to a 12-year low in the past month amid the coronavirus outbreak, the employee engagement levels of the working population has hit a new high.
Employee Engagement is crucial During Tough Times
Employee engagement is the level of commitment an employee has towards his or her organization, it's about how employees feel about their workplace. Highly engaged employees enjoy working for their organizations, go above and beyond their core responsibilities and bring passion, enthusiasm, innovation to their companies.
Favorable business outcomes like higher profitability and productivity directly correlate with employee morale and employee engagement.
Employee engagement is defined by aspects like being clear about your role; having the right resources to do your work; getting the platform to do what you do best and being aligned to the company's vision.
If these factors are taken care of even during the crises situation, like the current coronavirus times, engaged employees, unlike their disengaged counterparts, report lower levels of stress and worry.
Engaging and satisfying work act as a deterrent towards the negativities of the pandemic and economic slowdown.
Why is employee engagement seeing a rise in the current times?
1. Communication is stronger than ever
A Gallup study reported that employer communication and clarity improved amid the coronavirus pandemic; 52% of survey respondents stated that their employer provided a clear plan of action. During times of uncertainty, keeping employees well informed, setting clear expectations and sharing timely feedback and recognition become an imperative.
This helps boost employee engagement not only for now but for the long run, even when we return to our usual normal times. This is what is being witnessed across most of the organizations - the employer response has improved.
Most companies have been focusing on effective communication: having a clear plan of action, preparing employees on how to work under the new work arrangement, keeping them informed on the latest developments related to the pandemic and economic slowdown. These responses are directly linked to higher engagement - employees feel more connected to their organization, feel their organization supports them, is sensitive to their concerns and cares about them.
Employees have also seen a change in leadership, the COVID 19 pandemic has forced leaders to - communicate more frequently and transparently; to support and motivate their people. Also, since we do not work in physical workplace anymore, the need to be available to your teams has become more pressing.
Many organizations are even running employee engagement surveys or pulse surveys to understand how are their employees faring during these times, do they feel well connected with their organization, are all essential tools and resources being made available to them, is there any concern (even at a personal front) bothering them, where they need help, etc.
2. Employers do care about employee wellbeing
Employee wellbeing has become an all the more crucial factor in the present scenario. The new remote work environment, where everything has turned virtual, has had different effects (good or otherwise) on different people. Therefore, factors like flexibility, employee health and wellbeing (both mental and physical), work-life balance, etc. have come up in the order of priority.
Top decision makers across organizations have revamped their HR policies in order to accommodate and emphasize upon employee well-being. Managers are motivating their teams to lead a productive and healthy routine while they work remotely. Organizations are encouraging employees to take short breaks from their daily work schedule and are hosting short virtual coffee sessions, etc.
Progressive organizations like Twitter and Facebook have announced that they will allow permanent work-from-home programs indefinitely. Even the Quantum Workplace study states that employees felt their companies supported their wellbeing more this year than the last year.
Many companies are also offering short e-learning programs, peer mentoring, and wellness coaching programs for employees. — all this directly impacts employee morale and engagement. Employee feel more invested in by and connected with their organizations.
3. There is greater appreciation for work among employees.
We are happy with our jobs is something I get to hear more often now, than earlier times. Millions of people across the globe have lost their jobs since the pandemic hit us. Unemployment is another global challenge that just seems to be growing.
Employees who are working in the current times, feel fortunate and thankful to have work – a source of livelihood. Moreover, many employees also seem keener towards contributing more and going an extra mile for their organizations.
Employees seem to be valuing elements like – manager support, human connect, benefits offered, salaries, etc. The general job dissatisfaction vibe that an employee would feel under usual time, is seeing a dip in the present scenario. People are just grateful to have jobs right now.
Conclusion
So, companies are responding better to employee needs, the employer-employee communication is stronger than ever, employees are happy to have a job and are working hard to keep them, all this has led to the rise in employee engagement levels, globally.
However, what organizations need to realize is that even after we come out of the current times, they need to keep this transformation in communication, wellbeing, and leadership going. That's what's going to form the basis of continuous engagement, productivity, profitability and performance.
The times will keep changing, we'll have better days and even greater challenges ahead of us, but the core factor that remains constant is that by supporting their employees companies can survive and thrive on all challenges. Companies invest in their people today will gain an edge over their peers and will outperform them.