Blogs
Your source to the latest insights on what's trending in the HR arena - Recruitment, Talent Assessments, Employee Surveys and Training.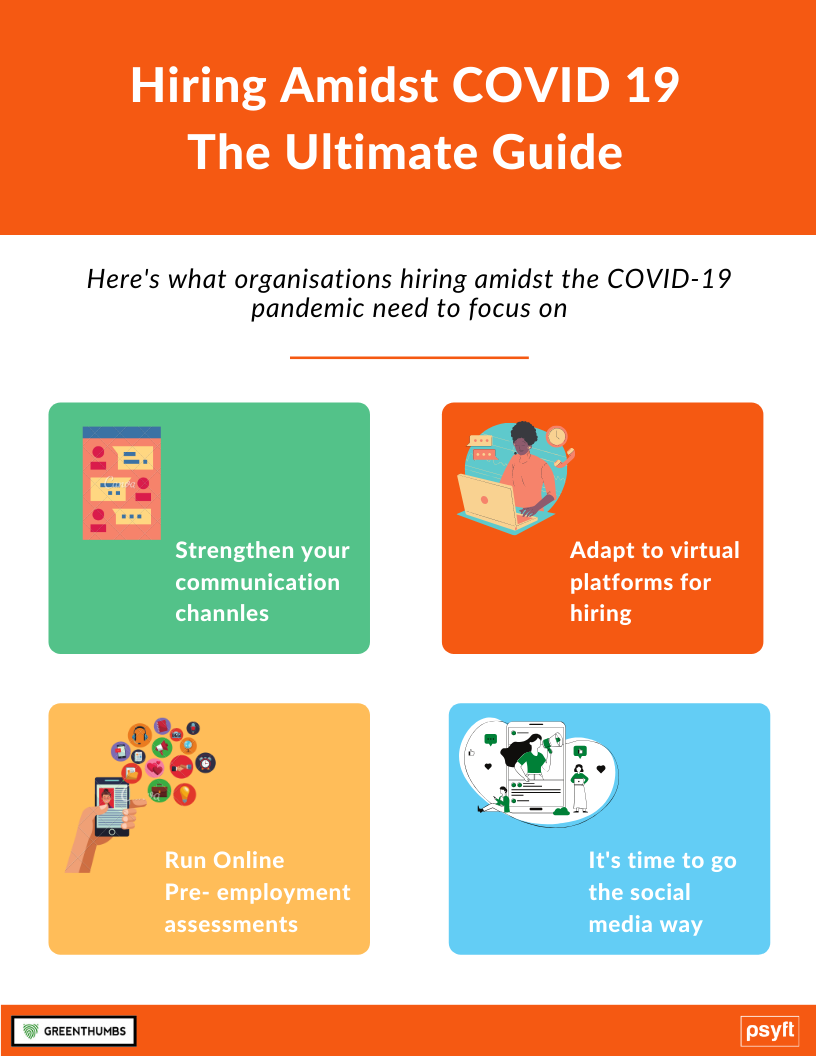 Hiring amidst COVID 19 – The Ultimate Guide For Talent Acquisition
The COVID-19 pandemic has drastically changed the way businesses operate. Remote work and social distancing norms have come to define the new world order. Business leaders, employees, and even job-seekers have no option but to abide by these norms.
Given the current pandemic situation, many organizations have paused their hiring and onboarding processes, indefinitely. At the same time, there are industries like health-care sectors, e-commerce companies, logistic companies etc. that are in an immediate need of manpower and are hiring aggressively.
Hiring Stands Redefined
Health and safety of existing employees as well as potential hires have become matters of prime concern and while focusing on these factors, companies have redefined their entire recruitment strategy.
Let's look at some of the strategies that hiring managers and recruiters, hiring for their clients can keep in mind amidst the current pandemic situation.
Embrace the change
The current pandemic situation has brought in a whole new set of challenges for employers, employees and job seekers. This is the time when HR managers across sectors have to come in and turn the challenges into an opportunities.
Hiring managers and recruiters need to chalk out a new plan for the new normal. Replacing the traditional ways of hiring and adapting to new- age virtual onboarding is the way forward for organizations. Companies need to bring in new age hiring strategies to attract top candidates and hire the best amidst the COIVD 19 pandemic.
Economic times, in a recent article talked about how companies are shifting to virtual platforms, etc. amid the coronavirus outbreak. Organizations across the world are resorting to smart technology, automated systems, virtual screening and interviewing experience, for shortlisting candidates and conducting interviews.
Launch Virtual Hiring & Onboarding Programs
It's time to explore and adapt to remote technology. Companies need to bring in technology enabling hiring managers to virtually source, screen, shortlist and bring aboard new hires.
Using web based/video conferencing, telecommunication applications like Skype, Slack, Google Hangouts or Webex, ease out and fasten the recruiting process, especially during these unprecedented times. Virtual platforms helps talent acquisition teams to stay connected with candidates, conduct online interviews, launch digital hackathons, etc.
Such applications are already being used by many large companies like Google, Amazon, IBM. Even smaller companies have adopted video calls as a common form of connect and communication. Onboarding is another area of recruitment which has to be managed and handled the virtual way. By leveraging virtual meeting tools, inductions can be made just as seamless and smooth as they would be under normal situations. Remember, the aim remains the same - helping new hires form a connect with their teams and engage with their new organization.
"Virtual welcome buddies or mentors" can be appointed to welcome the new hires and take them through all work related affairs, at least for the first few days or weeks. Regular check-ins should be held, enabling a regular schedule for interaction and communication, so no one feels isolated or left out.
Strengthen your Communication
A strong communication mechanism is a must. This is the time when hiring managers need to be pro-active while reaching out to potential hires as well as new joinees. Timely emails, calls, e-meetings, text messages is an imperative. Be available to address any query that a new employee might have. Keep candidates appraised of any new procedures or policy changes. Be mindful of the fact that these are not normal times, and therefore, candidates might be going through added anxiety, be polite and empathetic and as transparent as possible with them.
Some Quick Tips -
Decide on the platforms for communication that'll be used, look at using multiple channels, as per suitability.
Be encouraging and motivating with your tone of communication (we need all the positivity we can get).
Make your connect personal; be responsive and active with your communication,
Try not to go overboard with it and overwhelm the candidates, causing unnecessary stress.
Go social
Around 84% of organizations are currently using social media for recruitment and hiring. Now is the time to make optimum use of social media and get even more creative with it, in order to attract the top talent pool sitting in self-isolation.
Posting job opportunities on social media get organization as wider reach. Another reason for exploring social media for hiring is that it turns out to be cost effective too. This is something of great importance as organizations worldwide are looking at cost-cuts, wherever possible. Social media recruitment also helps create a stronger employer brand, especially the younger generations of job-seekers.
Run Online Pre – Employment Assessments
Online Pre – Employment Assessments are smart screening tools that can be used to their full potential during these times. There are many scientific, reliable and standardized online assessments like MBTI, 16PF, Psyft Personality Assessment, DISC, etc available that fasten up the hiring process and also offer a great candidate experience at the same time.
Organisations should focus on conducting such assessments to zero down on potential recruits. Pick assessments that most suit the roles being hired for and filter talent on the basis of – behavior, competencies, attitude, etc.
Such assessments also help hiring managers with how to go about interviewing candidates, what to ask and make informed hiring decisions.
In the end
Using virtual platforms seem to be the best approach available for talent acquisition, sustaining business continuity while maintaining social distance and ensuring health and safety of everyone.
Some Quick Takeaways - Organizations hiring during the COVID-19 need to –
Embrace & adapt to digital recruiting methods.
Communicate well, communicate in time and be responsive.
Explore running online assessments to filter talent acquisition.
Utilize social media for sourcing and screening.
Focus on health and safety of everyone.
Employers and recruiters need to be progressive with their thinking. They need to change their approach and policies in order to adapt to the new normal.