Blogs
Your source to the latest insights on what's trending in the HR arena - Recruitment, Talent Assessments, Employee Surveys and Training.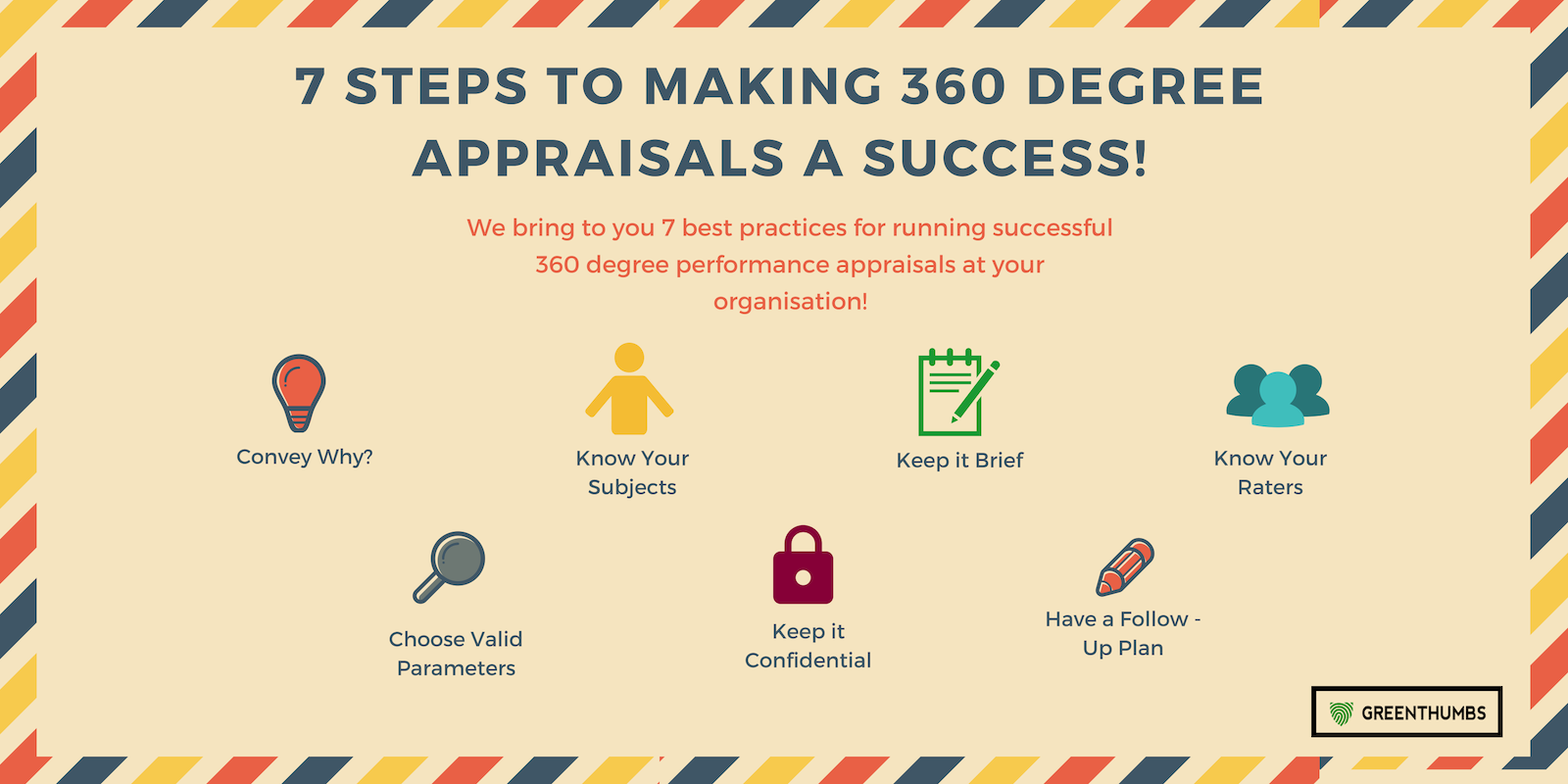 Successful 360-Degree Appraisals in Just 7 Steps!
360-degree feedback is a process of receiving feedback on various work related parameters, from people across the organizational hierarchy (managers, peers, subordinates) and analyzing it vis-a-vis one's self assessment on these same aspects. It's a great way to assess employee competencies, performance & work behavior and is, therefore, a popular tool for running successful performance appraisals.
Companies around the world are increasingly replacing the traditional appraisals with 360 degree feedback enhanced appraisals. The top reasons for this shift are introducing greater transparency in the appraisal process, increasing employees' engagement with the review process, and improving the overall efficiency and utility of the performance management process.
GreenThumbs brings to you this 7 step guide to effectively implement 360-degree performance appraisals at your organization.
1. Why do a 360-degree feedback survey?

Communicating the purpose behind running a 360-degree survey is vital. Employees must know what 360-degree feedback is all about and also, how to interpret the results so as to maximize performance enhancements.

2. Who should be the subjects?

Subjects are employees for whom feedback is collected. These can include some of the top performing or under-performing employees. It is important that these employees have spent a reasonable amount of time in the organization for their performance to be rated and analyzed by peers.

3. Who should be the raters?

The effectiveness of a 360 degree feedback exercise depends to a great degree on the quality of Raters i.e. the people who give feedback for the subjects. They could be anyone - managers, subordinates, clients or peers. The important thing is that the selected raters should have some professional relationship with subjects, whom they are giving feedback for and should have spent some time working together. Only then will they be able to provide relevant responses.

Raters that are known only through casual interactions, brief meetings, or short-term projects must be avoided as they may not be in a position to provide any meaningful feedback.

4. What parameters are to be assessed?

360-Degree Appraisals should include questions that comprehensively cover areas of employee competency and performance. Job expertise, team work, leadership, work productivity, communication skills, etc are some of the important aspects to cover in a 360 degree feedback questionnaire.

5. Keep it confidential

360 degree feedback surveys should be kept confidential enabling employees to give genuine and fair feedback which in turn would help in laying down future action plans.

6. Keep the survey crisp

360 degree surveys should be kept brief and to the point, in order to avoid survey fatigue. Ideal duration of the survey should be around 15 to 20 minutes.

7. Have a follow-up plan

A follow-up plan post the survey is crucial for ensuring effective improvements, continuous learning and self-development. Implementing a 360 degree performance appraisal and backing it up with a well thought out plan of action leads to enhanced performance and greater growth prospects.
Organizations that implement 360-degree feedback in the right format and spirit witness open and honest communication, more accountability and better business prospects.